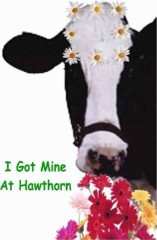 Here are some of our favourite websites we like to share with you.
Garden.ie/The Irish Garden
Gardening tips and monthly features from The Irish Garden magazine. Gerry Daly answers gardening questions online.
Irish Gardeners Forum
Meet other Irish gardeners online, exchange ideas, and ask questions about gardening techniques. A new Web site based in Galway.
Garden Web
An award-winning worldwide site offering forums, articles, a plant database and a gardening glossary. Garden Web has a separate European site that lists numerous nurseries (including Hawthorn!) and offers other useful resources.
Heritage Ireland
A guide to Ireland's gardens and parks is offered in the web pages of our national heritage organisation.
Windowbox.com
The Balcony Gardener of Santa Monica, California, offers lively and practical advice to "planter box gardeners," especially those living in apartments in towns and cities.
Magic Domes
Specialises in the design, manufacture and installation of multipurpose, storm-proof outdoor structures. Magic Domes are geodesically shaped to provide a very strong structure which is aerodynamic, resisting the stormy winds which damage flat sided buildings.
Visit Ennis.ie
All about our neighbor Ennis, the "Information Age Town" in County Clare. This site includes local businesses, tourism information, and news of local events. A must for visitors as well as those who live in or near Ennis.
Doonbeg
Your essential guide to another of our Clare neighbors, the lovely community of Doonbeg.
Doonbeg Golf Club & Cottages
One of the gems of West Clare