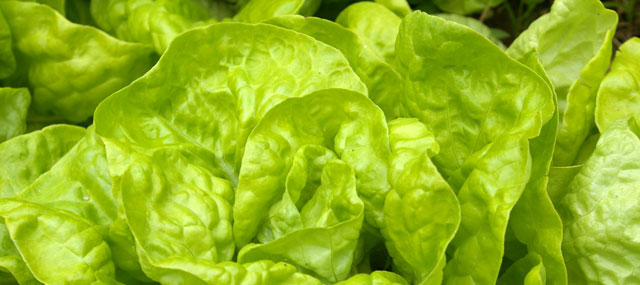 Tips for your organic vegetable garden by Dermot O'Mara. April is the perfect time to plan a seasonal salad strategy.
Any time is good to begin a discipline of sowing, preparing ground, planting, harvesting and eating. Decide what it is that you like to eat and plan on having a continuous supply of your favourites.
Perhaps you like lettuce only. There are hundreds of varieties to choose from. Maybe you like a spiced-up salad and there are many herbs to pick from. You could also grow cut and come again spinach, chards and edible flowers such as calendula, borage and nasturtium. Sow lettuce in plug trays every two weeks or so, one seed per cell. Sow about 20% more than needed to allow for losses. Water regularly but not too much.
Most herbs are best sown with five to eight seeds per cell, and the seeds will compete with each other giving you a nice clump as a plant. Many of the herbs grow fast during the summer and go to seed quickly and as they go to seed the flavour becomes less desirable.
VARIETIES
Firstly there are many different types of lettuce. Butterhead, oak leaf, cos, batavia, lollo and baby leaf are the most popular. Within these types there are many varieties and colours vary too. Some of the spicier leaves or oriental greens include mizuna, Mibuna, sessantina, and namenia. You can also include in your salads different parsleys, rocket and coriander. There are so many greens that can help make a wonderful salad.
SPACING
Plant lettuce at 30cm spacing. Most of the herbs grow best at 15cm apart each way.
HARVESTING
Cut with a sharp knife and, especially with lettuce, concentrate on removing the outer leaves. With many herbs, remove any leaves that look tasty. After harvesting, your plants will like a light hoeing and watering if needed.
There is nothing better than fresh salad at any time. Add to your breakfast omelet or your sandwich at lunch, or serve a full bowl of salad at the family dinner. Enjoy a wonderful summer of fresh salads.
DIGGING
Now that the very cold weather is over, your gardens should be dug over and FYM or well rotted material from your compost heap dug in.
This is also an ideal time to add ground seaweed.
Vegetable crops need high levels of soil fertility to promote rapid growth.
PLANTING VEGETABLES
The ideal ph for growing vegetables would be between 7 and 7.5.
It is now time to plant onion sets, shallots and late garlic.
These bulbs should be planted just below soil level. They require well drained soils.
Early peas can be put in the ground and can be covered with a cloche in case of late frost.
Parsnip can be sown from seed now in free draining soils with plenty of fertility.
Early April, start setting seeds for Radishes, Lettuce, Broad Beans, Carrots, Beetroot and Leeks. Soil should be well broken up with plenty of FYM and ground seaweed.
March/April are the main potato planting times. Your local garden centre will have a selection of early and late season potatoes.
ENJOY AND HAPPY GARDENING!

Dermot O'Mara,
Sunny Meadow Organic Farm,
Powers Cross, Galway.