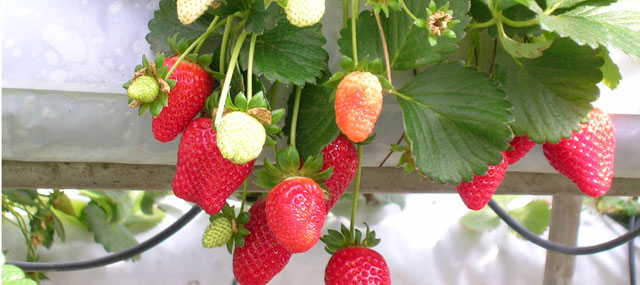 Tips for your organic vegetable garden by Dermot O'Mara. September is the month to get your strawberry bed ready.
SEPTEMBER and STRAWBERRIES
This is the month to get your strawberry bed ready, so that you can enjoy your very own fresh organic fruits throughout June and July. Follow these simple steps.
VARIETIES
Elsanta is a wonderful heavy fruiting variety that will often fruit from late May until the end of June. Symphony is another great variety that fruits from the end of June until the end of July.
FERTILITY
Dig your bed and add plenty of farm yard manure or garden compost.
PREPARATION
It is best to cover the bed with plastic or other ground cover materials. Silage wrap plastic is perfect, bin liners or even an old bed sheet is prefect.
Lay the chosen material out on the bed and dig the edges into the ground, making sure that the ground cover is secured very tight.
SPACING
You will need to plant the strawberry runners at spacing's of 40 cm apart. Take a sharp knife and cut a slit in your ground cover material at every 40 cm.
PLANTING
Make sure when planting the runners that you don't set them too deep, you do not want to cover the crown of the plant.
HARVESTING
It is advisable to cover the plants prior to harvesting with bird netting,( blackbirds also love strawberries). Pick the strawberries every two days and especially before heavy rains.
ENJOY AND HAPPY GARDENING!

Dermot O'Mara,
Sunny Meadow Organic Farm,
Powers Cross, Galway.